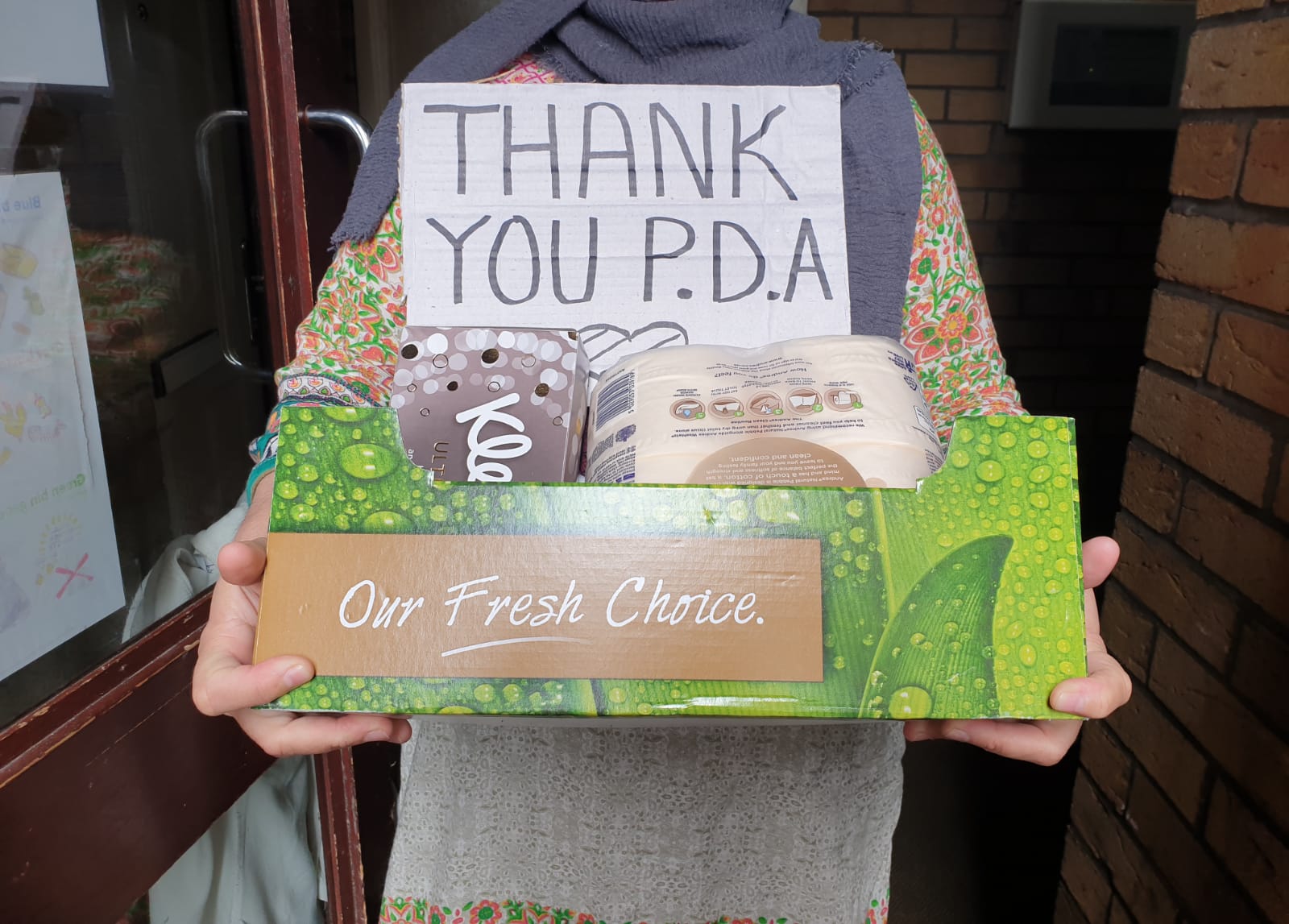 PDA Responds to Covid-19
The Covid-19 pandemic in March 2020 has had a profound impact on the world. It has been widely observed that the BAME community has been disproportionately affected by the Coronavirus, and as such, the PDA has responded to this epidemic by providing support to not only the whole of the Pollokshields community but specifically to its BAME members.
PDA Responds to Covid-19 is a project that was formed with the needs of the community at its heart. The Covid-19 pandemic left many households with little to no income, which led to a need for urgent food provisions. Using funding from various organisations such as The National Lottery Community Fund Scotland Awards for All, South East Integration Network, BEMIS Scotland and The Scottish Government Wellbeing fund, we were able to get food provisions, essential care products, and shop vouchers for our community members. Using these funds, and the Connecting Scotland scheme, we also managed to purchase digital devices to keep our isolating and shielding members connected online to their friends and families.
The PDA has formed partnerships with Pollokshields Community FoodPoint at 423 Shields Road and Zia-Ul-Quran Mosque to distribute food provisions to families in need.
Faith in Community Scotland funded the cost of sewing machines which are available to rent from PDA for a fixed time.
Using the above-mentioned funding, we have also begun online homeschooling services, offering children lessons in Mathematics, Science, and Creative Writing. There are also Creative Writing classes offered in multiple languages.
We have launched an online ladies-only club (The Hatun Club), in partnership with Glasgow Women's Library, giving women a platform to talk and alleviate any anxieties and mental issues Covid-19 has caused.
The PDA is proud to be a part of the Glasgow community spirit and will continue servicing the needs of its community even through challenging and unprecedented times. 
If you, or someone your know, would like to join these online classes and clubs, please let us know by emailing at info@pdaglasgow.org.uk







[/vc_column_text]